C.C. RIDER Indian Seat 2 Piece 2 Up Seat For Indian Chieftain Dark Horse Chieftain Limited Chieftain Elite Springfield, 2014-2023
Fitment:
2022-2023 Chieftain Dark Horse Icon
2021-2023 Roadmaster Limited
2021-2023 Indian Springfield Dark Horse
2021-2023 Indian Springfield
2021 Vintage Dark Horse
2020-2023 Roadmaster Dark Horse
2020-2022, 2017-2018 Chieftain Elite
2020-2021 Indian Vintage
2020, 2018 Roadmaster Elite
2020 Indian Chief Dark Horse
2018-2020 Springfield Dark Horse
2018-2020 Chieftain Classic
2018, 2016 Chief
2017-2023 Chieftain Limited
2017-2019 Chief Dark Horse
2017-2018 Roadmaster Classic
2016-2023 Chieftain Dark Horse
2016-2020 Springfield
2015-2023 Roadmaster
2014-2023 Chieftain
2014-2019 Chief Vintage
2014-2018 Chief Classic
This two-piece 2-up seat is made of hard-wearing, Microfiber Leather &Cowhide Leather, matching the look and feel of your genuine leather driver seat.
The comfort of this series of seats is relatively hard because of its low-profile design, which is closer to the ground, so if you are planning on a long trip, it is recommended to choose a long-distance seat with a thicker filling.
The seat is built around quality and comfort. The seat feature a long, enduro-inspired, cut that allows you to shift your body position during more spirited riding on-road and off, increasing comfort and control. A breathable seat can provide both rider and passenger with a good driving experience whether it is a rainy day or hot day. Your riding gear is designed to allow moisture to escape your body but it can't do its job in the most important area unless you have a seat that breathes.

The C.C Rider Flow Technology allows your body's moisture to pass through your riding gear, down through the seat fabric, and into the breathable membrane. The moisture then escapes through the sides of the seat, leaving you dry and comfortable.

Pineapple Cut Stitching
The geometric pattern design makes your bike more unique and fashionable.
Material: Microfiber Leather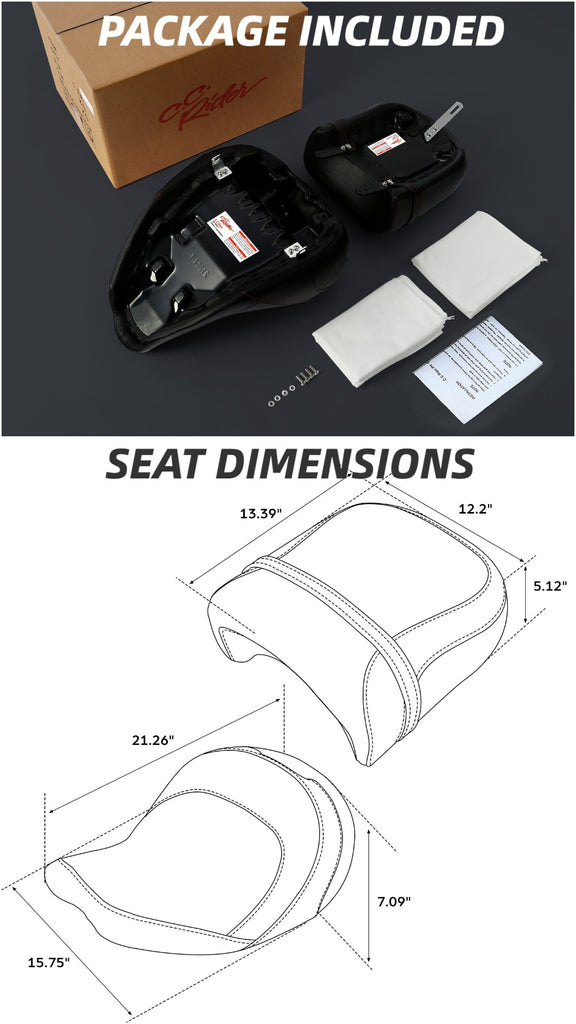 FREE SHIPPING
ccriderseats.com offers free shipping to all of the contiguous United States. However, some areas cannot be delivered, such as Alaska, Hawaii, Guam, Marshall Island, Northern Mariana Islands, Virgin Island and military post office boxes. If you are in these areas, please contact us before ordering. 
Please refer to the chart for the shipping cost if you are in those countries:
Country
Condition
Price
United States
 

—

free shipping

Australia & New Zealand

$399.00 and up

free shipping

—

$19.99

Canada

$399.00 and up

free shipping

—

$19.99

France & Italy

$399.00 and up

free shipping

—

$19.99

Japan & Korea

—

free shipping

Malaysia & Singapore 

$399.00 and up

free shipping

—

$19.99

United Kingdom

$399.00 and up

free shipping

—

$19.99

Rest of World

$599.00 and up

free shipping

—

$39.99
HANDLING & SHIPPING TIMES
Our warehouses are located in Pennsylvania and California. The warehouse will take 1-3 business days to process your item. Your products may arrive on different days, depending on your distance from our warehouse. It usually takes 3-9 business days to deliver your item by FedEx or UPS. For timely delivery, please leave an accurate and detailed address on the order or order attachment. If the transportation period is a major shopping festival such as Black Friday, or bad weather, there will be some pressure on transportation, so the delivery time may be delayed by 2-5 business days, please understand and wait patiently.
Cancellation Policy
Please contact us as soon as possible if you would like to cancel the order. Please understand that the order could not be canceled once the warehouse has processed the order.
Other Questions
We will notify you if your order is out of stock. You could wait for the stock to replenish (The replenishment time may take up to 60 days), or we could ship from our global warehouse directly to you, we would cover most of the international shipping fee and import tax for you in most cases. However there might be some extra charges for the shipping due to the international shipping fee is continuously increased. In this case, we would notify you by email.
If your order is shipped from the global warehouse, the delivery can take up to 35 days. If you have not received the order by 35 days, please let us know so we can investigate this for you. 
 * 
California Residents Warning: California's Proposition 65. For more Information Please Visit  - https://www.p65warnings.ca.gov/
IF YOU HAVE ANY QUESTIONS
We will continue to improve our policy. Please contact us at  service@ccriderseats.com or ccriderseats@gmail.com for more information.
 *Please note due to the size of the goods being oversized, we may inform you of the extra shipping fee if you purchase discounted products.
 *Please note that the import tax is subject to local customs. If you may have any confusion regarding the tax fee, please contact the customs office for further assistance.
We Believe As All Motorcycle Enthusiasts Generally Take Very Good Care Of Their Bikes As Well As The Seats. The Basics Of Motorcycle Maintenance Include The Condition Of "Wet Seats" , "Washing, Waxing & Treating Seats", "Cuts, Scratches Or Scuff Marks".

WET SEATS
Motorcycle seats and backrests will get wet due to rain or washing the bike. Our C.C.RIDER seats will not be damaged in any way by getting wet--or even staying wet a week.
It would have to be a molded plastic cover to be waterproof, like some OEM seats.Any seat that has an upholstered cover with stitched seams could not be totally impermeable to water. Water will tend to leak through the stitching, it takes a while to dry out. C.C.RIDER seats mix the chemicals to make the foam for every seat, so the foam will not be damaged if it gets wet in a rainstorm. It will return to its original resilience after drying out.

Washing, Waxing & Treating Seats
C.C.RIDER seats are made of the highest quality vinyl and will retain their looks for years without any extra care. C.C.RIDER seats can be washed with any mild, non-abrasive detergent. Simply spray, wipe, and polish dry for a beautiful, durable, lasting shine.

Cuts, Scratches or Scuff Marks
If your seat has been scratched or scuffed, try gently applying a small dab of black paste shoe polish on the affected area. Allow it to dry completely, then buff out with a clean soft cloth.